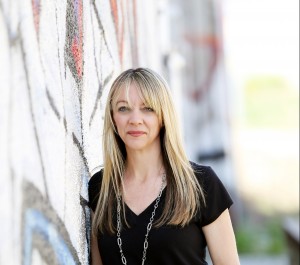 MONDAY to FRIDAY -- 10:00 AM - 03:00 PM
Jacqui went off to Kansas State University with big dreams of becoming the next Diane Sawyer.  But a meeting with a Program Director of a radio station would change her life forever.  When he asked if she'd like to come to work for him for the summer, the music lover said YES! Her new co-workers teased her that she had caught the radio bug.
She went back to Manhattan after the summer was over, and went to work for another station.  Her schedule taught her to multi-task… balancing school, work, and being on the sidelines as a Classy Cat.  She graduated from KSU with a degree in Radio/TV.
She fell in love with a "long haired hippy guitar player", and they began their life of moving from station to station to station.  They tested their love by doing a morning show for 3 years, but it taught the young couple the best way to get through this thing called life is with laughter… lots and lots of it.
Kansas City was one of their first stops, but when they decided it was finally time to have kids… they knew it was time to come HOME.  Jacqui grew up in a tiny little town, but has found her tribe of friends in the big city.  After having their first child, she semi-retired from live radio and started doing voice work and radio shows out of their home studio.
She's the very proud Mama of 2 kids.  Jacqui and her husband just celebrated their 20 year wedding anniversary (although she claims the time they worked together should count as double).
After giving up on local radio, KC102.1 caught her very critical listening ears.  Like all her friends, she loves the mix of music! Jacqui looks forward to meeting you and chatting with you about what you love about KC and KC102.1!
Which would you pick: being world-class attractive, a genius or famous for doing something great?
Doing something great
What's the most beautiful place you've ever been?
Gulf Shores, Alabama
If you could be a cartoon character for a week, who would you be?
ANIMAL!
What's your favorite smell in the whole world?
Herrera for men and Sea Salt Zum spray.
What 3 famous people, living or dead, would you want to have dinner with?
Eddie Vedder, Eric Hosmer and Chris Hemsworth
What is your perfect pizza?
Pepperoni and cheese
Who is your hero?
My parents.
If you were help at gun point and told if you didn't impress them with your dance moves you would be killed, what dance moves would you bust out?
I would bust out the kick line I still know from my years as a Classy Cat at K-State with Wabash Cannonball.
What is your favorite guilty pleasure TV show?
Criminal Minds
If you could be a professional athlete, what sport would you play?
Basketball
Follow Jacqui on social media: