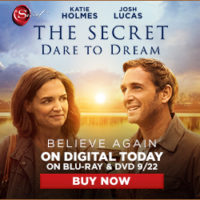 In a time when we need it most, experience THE SECRET: DARE TO DREAM. Based on the best-selling book The Secret by Rhonda Byrne comes the feel-good movie starring Katie Holmes and Josh Lucas which proves the power of positive thinking. The book has become a global phenomenon since its 2006 release, selling over 34 million copies worldwide.
THE SECRET: DARE TO DREAM is an uplifting and hopeful film that explores gratitude even in the darkest of days, and reminds us all that it's never too late to believe again.
The Blu-ray, DVD, and Digital releases take viewers even deeper into the story with the special feature The Secret: On Set.
Believe Again. THE SECRET: DARE TO DREAM is on Digital tomorrow, Blu-ray and DVD September 22nd.
Listen to Jen all week long for your chance to win a copy of the movie and a $50 savings pass from 1-800-Flowers.com.