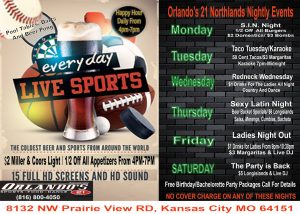 LOOKING FOR SOMEWHERE TO HANG OUT THIS SATURDAY NIGHT?
ORLANDOS 21 IS YOUR NEW NORTHLAND HOT SPOT!
IT'S KC'S FAVORITE PLACE TO PARTY AND DANCE. ITS THROWBACK WEEKENDS WHERE'S THE DJ SPINS YOUR FAVORITE DANCE HITS FROM THE 80S, 90S AND TODAYS MUSIC!
NO COVER CHARGE EVERY FRIDAY AND SATURDAY NIGHT GET ½ PRICE APPETIZERS AND DRINKS…
CHECK OUT OUR FACEBOOK PAGE AT ORLANDOS21KC.
COME CHECK OUT THE NEW ORLANDOS 21 IN THE NORTHLAND!