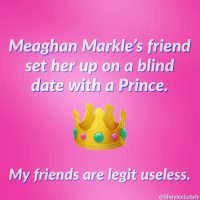 I know half of you are sick of hearing the Royal Wedding and the other half (like me) CANNOT get enough! The tiara! The guest list! The cake! And can we talk about that reception dress?!
The question everyone was asking this time last week was, "Are you watching the Royal Wedding?" and while some of us were so excited and woke up before the donut store even opened (I may have inquired if they would be opening early for the big event… they laughed at me) and some of you were asleep and wondered why we even cared. No I don't live in England and a wedding I wasn't invited to (still bitter about this) has no bearing on my everyday life. But I think what is so intriguing about Meghan Markle is she is living out the Disney fairy tale that we all thought could happen to us when we grow up. You know what I'm talking about: you do your thing then fate comes in, birds sing, forest animals help you make your bed, then you run into Prince Charming. Now I don't know if forest animals helped her make her bed, but she's an average girl from California who was doing her own thing then gets set up on a blind date by her friend with a Prince. A PRINCE! I don't know about your friends, but to my knowledge, none of my friends know royalty. How does this even happen!? Apparently I need new friends.
I always thought of Prince Harry as the party animal, who would never settle down and would always be "the cool uncle" to William and Kate's kids. Now, he looks and acts like an actual Prince who is so incredibly in love with his new bride. The Duchess of Sussex is living out the Disney dream and we all have a front row seat to watch it happen.
But let's discuss the real issue here: Why did no one tell me that Princess Diana's nephew is super hot AND single? My future husband, I mean, Louis Spencer, is the son of Diana's younger brother, Earl Spencer. Do you know what this means?! I STILL HAVE A SHOT TO BE BESTIES WITH THE DUCHESS OF CAMBRIDGE AND DUCHESS OF SUSSEX! If any of my friends know Louis Spencer, I'm gonna need you to take a page from Meghan Markle's friend's playbook and hook me up.
If anyone needs me, I'll be on Pinterest planning my fairy tale wedding to Louis Spencer.