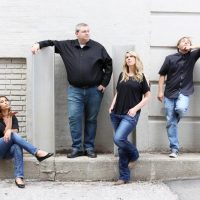 When I tell people that I co-host a morning radio show, the first thing they ask is "what time do you wake up?" The answer is 4 a.m. Then they ask, "what time do you go to bed??" The answer is somewhere around 9 p.m. But forget about that…if you're not familiar with our morning show, let me give you a little rundown.
First, the show is made up of Bryan Truta, Jen Johnson, Shaylee the Millennial, and Joey the Producer.
We get started on the air right around 6 a.m., and chat about some of the top stories of the morning. Then by 6:30, we're already giving away the first prize of the day with "Jen's Impossible Question". Today's was "This has 200 lights and weighs 2400 lbs. What is it?" The wheel on Wheel of Fortune. If you're the first caller to get it right, you win.
Then we chat about the entertainment news…everything from concert tours being announced to ridiculous Kardashian gossip.
We like to hit a good phone/text topic in the 7 a.m. hour–for example, "what celebrity did you run into…" or "tell us about a time you got pulled over…" (I literally got pulled over for speeding the DAY AFTER we did this topic).
Around 8:20, we play a game for your chance to win good stuff like concert tickets. We have "Think N'Sync", which has nothing to do with the pop group, but is a game where the members of the morning show try to match answers. We also play "Google Predicts", where Truta will start to type a question into google like "How many people…", and the first thing that google auto fills with is the answer we try to guess. Sometimes we play "Who Tweeted It", where I read a tweet from each member of the show, and listeners have to guess whose tweet it is. And on Wednesdays, we play our long-running game "Gen X vs Millennial", where gen x'ers take on Shaylee the Millennial in a match of pop culture trivia.
We're ALWAYS happy to take your calls and read your texts at 816-576-7102, and you can email us at TheShow@kc1021.com. You can tell us anything-problems, advice, compliments (please, we need those), show ideas, whatever. We'd love if you'd like KC 102.1 on Facebook, or follow us on Twitter @kc102radio or Instagram!