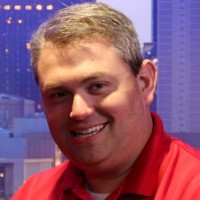 Bryan Truta's 17th year in radio brings him to KC102.1, "Where it's all about the music." A music lover and self-professed radio-geek, Truta grew up in Kansas City and has spent every minute of his career here. First on-air at the age of 8 thanks to a letter he wrote to his favorite DJ, Truta caught the radio bug early. He began working regularly at age 16 on the station that would become Mix 93.
After learning all he could at the University of Kansas, Truta began his career in sports talk radio as a producer/co-host on Jason Whitlock's Neighborhood, the eponymous program featuring the (in)famous Kansas City Star sportswriter. This program ranked consistently in the Top 3 with men in Kansas City for over 3 years.
As a music lover, Truta made the switch to FM in the early 2000's, beginning a long run with his morning show partner, Nycki Pace, as one half of a very popular morning radio duo. Nycki and Truta on E105 ran for four years before the station flipped formats.
In addition to his on-air duties, Truta began his programming career at 97.3 The Planet, Kansas City's first Triple A-formatted station, in 2004. Since then he has successfully programmed Rock, Talk, JACK (Adult Hits) and Classic Hits.
Truta gives a lot of his off-air attention to charity work, hosting and MC'ing numerous auctions and events throughout Kansas City. He has been noted for his work with the Leukemia/Lymphoma Society, the Ozanam Boys & Girls Home, Head For The Cure 5k and his alma mater, Bishop Miege High School.
Truta has one daughter, three years old, and a new puppy.
[maxbutton id="2″]