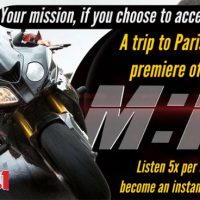 Travel to Paris with MISSION: IMPOSSIBLE – FALLOUT: Your mission, should you choose to accept it…
Travel to exquisite Paris, France, one of the MISSION: IMPOSSIBLE – FALLOUT filming locations, to attend the film's exciting premiere. Upon arrival in Paris you'll be transported via private car and driver to the Renaissance Le Parc Trocadero Hotel, or similar, for a three (3) night stay. The hotel is perfectly situated between the Eiffel Tour and the Arc de Triomphe – one of the monuments featured in an exciting scene from the movie. Paris is yours to explore from your comfortable base of operations.
To provide a more thorough reconnaissance of Paris, you'll receive two (2) 48-hour Hop-On- Hop-Off tour and boat cruise on the River Seine passes. The tour will give you an overview of the most popular sights of Paris including the Louvre Museum, Place de la Concorde and Notre Dame. The relaxing one-hour River Cruise along the Seine will showcase Paris's phenomenal riverside landmarks and iconic bridges.
Once familiar with Paris, prepare for the premiere of MISSION: IMPOSSIBLE – FALLOUT where you will be among the first to see the action packed movie alongside Tom Cruise and many of the film's stars.
Prepare to take on a most extraordinary and memorable mission as you experience the enduring city of Paris in honor of MISSION: IMPOSSIBLE – FALLOUT!