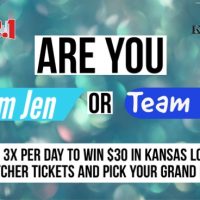 KC 102.1 and Kansas Lottery have teamed up for a one of a kind giveaway! "The Voice" is a competition of talent, grit, and of course great music, which is similar to KC 102.1's morning show, The Show with Jen and Truta! For 3 weeks, YOU are in the hot seat and will have to pick who you want as your Grand Prize Coach, Jen or Truta!
Listen 3x per day to call in to win $30 in Kansas Lottery "The Voice" scratcher tickets and instantly become a finalist for a grand prize! The hard part is going to be to decide which grand prize you want:
Team Jen grand prize includes a pair of tickets to see Cyndi Lauper at Sprint Center, a pedicure at a local salon, a Target gift card and a Starbucks gift card and $100 in "The Voice" scratcher tickets.
Team Truta grand prize includes a gift card to Home Depot, QuikTrip, movie passes, and a round of golf at Top Golf, and $100 in "The Voice" scratcher tickets!
Grand prize winner will be chosen in a random draw